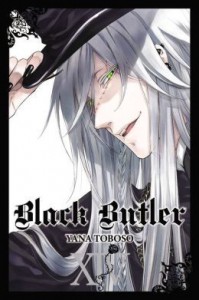 I had thought that the scenes of Sebastian and Ciel's early days would be over after volume 13, but, happily, that wasn't the case. I loved getting to see more.

Somehow, I had thought that Sebastian had always been an incredibly capable butler, but that turns out not to have been the case. Sure, he could do amazing things, but he didn't always understand humans and he needed to learn how to be less obvious when using his demonic abilities. Seeing both Ciel and Sebastian trying to become perfect in their respective roles was a lot of fun. They seemed to relish punishing each other for making mistakes, but they also clearly enjoyed eventually getting things right.

I admit, I'm still a little confused about what Sebastian and Ciel's true feelings are for each other. Ciel has moments when he can be very vulnerable and in need of what comfort Sebastian is able to give him. At those times, it almost seems like Sebastian cares for him. Then there are times when Ciel acts like a spoiled little jerk, and I get the feeling that Sebastian will be happy when he can finally eat Ciel's soul and be done with him.

The Easter egg hunt was pure fluff – not quite as good as the fluff at the end of volume 8, but still nice. I'm really looking forward to the next arc, with Ciel and Sebastian sneaking into a school for rich young men. Ciel is either going to be bullied big time, with Sebastian coming to save him before things get too bad, or he's going to cultivate a group of minions and rule the school. I hope for the latter but suspect the former is more likely.

One last thing: This volume had me wondering just how indestructible Sebastian really is. The damage from the Undertaker's death scythe gave him some difficulty, more than any other wound ever has, but he still held up awfully well. Is it possible he might be killed at the end of the series, thereby allowing me that scene in which Ciel and Elizabeth get married and take over England? On the one hand, I'd miss Sebastian. On the other hand, just the thought of seeing an adult Ciel and Elizabeth together gives me much joy.

Inside back cover extra: Black Baseball.
(Original review posted on A Library Girl's Familiar Diversions.)